Learn how to cook like a gourmet chef
Lanersbacher Hof in Tux – the favourite hotel for gourmets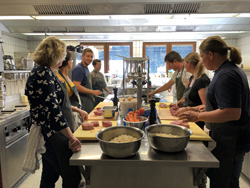 You always wanted to know the secret tricks and tips of chefs and for example how to make the meat so tender and crunchy at the same time or how to know which spices suit which dish best? At the Lanersbacher Hof cooking courses, which have been popular for years, you will be introduced to the preparation of special delicacies with many tips and tricks. Nathalie and award-winning chef Toni Fercher show you the diverse world of cooking. And for a good ending, you will enjoy a cozy round of what was cooked together. Transform your own taste into personal dishes with professional help and let your stay at the Lanersbacher Hof will be a treat for the senses!
Cooking Classes – 3 nights
09. July – 12. July 2020, 20. Aug. – 23. Aug. 2020, 17. Sept. – 20. Sept. 2020
Let us introduce you to the secrets of the award-winning cooking of the Lanersbacher Hof.
The cooking classes take place on Fridays and Saturdays from 10 a.m. to 1 p.m.
And of course you will get all the recipes to take away.
All cooking course packages include:
Participation in the Lanersbacher Hof cooking courses
All food needed for cooking
3/4-gourmet-pension (breakfast, afternoon snack, 5-course-menu of choice, 1x traditional Austrian-menu, 1x an exclusive 6-course-gourmet-gala-menu, Sunday champagne-breakfast)
Extensive inclusive services
Relax in the spa & wellness area
Tuxer hiking bus